He is a master at the art of carving. Request something similar to what has already been done OR tell him what you want and he will get it done to your liking.
---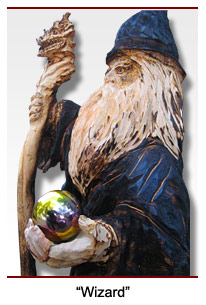 Pricing for sculptures depends primarily on detail and time involved. Quotes are available by calling 269.279.9185 or email [email protected].

We offer "Welcome" Bears & characters 3 to 4 ft. tall. Personalized items are available and will cost more due to the extra time and artwork required.

Read the latest article on Pete (from Shoreline Magazine)


When ordering, a 50% deposit is required on all orders. Balance is due before shipping or picking up item.
On-site carving is also available. Theme chairs and benches are priced can be created on-site. All carvings and woodcrafts are one-of-a-kind and not "production type".
Call 269-279-9185 for a quote.

Styles and Prices:
* All pricing dependant on Detail, Location, Size, and Degree of Difficulty

I currently offer:
Wizards
Mascots
Eagles
Fish Signs
Mailbox Holders
Contact Pete to Request Your Carving
If you are interested in a custom carving, please contact Pete by using the information below.

Phone: 269.279.9185
Address: 19391 Lakeshore Dr. Three Rivers, MI 49093
[email protected]